About Us
Our Label Tells our Story. Designed and Manufactured in Canada. Always.

At Teckelklub we have always understood the importance of dogs in all aspects of our daily lives. Our brand, our label and our made in Canada products tell the story of continuous commitment to hassle-free style, value, practicality, quality and durability. Since our beginnings in 1998, we have always made sure that everything we do honors our commitment to manufacturing the highest quality products in the world, from the way we engage with our customers to the communities where we do business responsibly. We pride ourselves on exceptional customer service and we strive to assist our clients in any way necessary. We hope you will see our philosophy reflected in all of our products.

Manufacturing all of our products is 100% Canadian and we are proud that our products are not mass produced. We will not change our commitment to social responsibility by manufacturing products offshore, using PVC fabrics or other environmentally unfriendly processes that are bad for humans and our pets, or sacrifice manufacturing quality for the sake of profit. We know that you and your dog will enjoy Teckelklub products for a long time. Special thanks to our Vancouver best friends Salsa, Cristal, Dior, Abbey, Shiloh, Maya, Stella, Cassie, Piper, Dobby, Leia, Merc, Pixie, Storm, Roo, Punky & Moshe and their owners!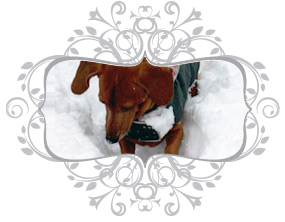 "Örling & Wu chose Teckelklub handcrafted in Canada dog lifestyle goods for the highly functional designs and excellent quality. These pet products fit extremely well with our contemporary merchandise for everyday living and we have collaborated on creating a unique design of beds which are very popular with our discerning clientele. Teckelklub's Natural Wellness collection of certified organic, locally-sourced grooming and health care products are very well received by our customers. The product line is hypo-allergenic, eco-friendly containing no quality-compromising ingredients such as sodium lauryl sulfate. We are pleased to offer this high quality collection which stands out to customers seeking alternatives to mass market grooming products for their pets." Örling & Wu, Vancouver BC
"Our customers are impressed by the quality of the Teckelklub products that are all made in Canada. At a glance they can see the durability and ease of fit to help ensure their dog is outfitted with a jacket that compares to none. Living in the Pacific Northwest means our customer's desire this combination of a completely waterproof jacket that also keeps their pets as warm as we like to be on cold weather days." Jennifer Blankers, Lucky Dog Daycare, Tacoma WA
"We have been loyal customers to Teckelklub since 2011 when we purchased The Trench for our 3 rescue Princess, Belle and Stella. Teckelklub is one of a few companies that provides exceptional North American made quality at a reasonable cost. The Trench fits our large dog breeds and delivers on the promise of waterproof, warm with classic style. We just received The Fuzzie for Stella, our German Shepard Whippet mix, and the fleece is excellent quality and fits her perfectly. Their dog jackets will make you and your best friend happy to be outside." CK Borgert, Astoria New York
"Your customer service helped me with choose the correct size Fuzzie and waterproof jacket for our Gigi. They arrived today and the 16 in the fuzzy and the 3 in the jacket were perfect. Thank you so much for your many emails and calls to help me though this with our square built little Chihuahua - French Bulldog mix 11 year old girl. She looks so cute in them - even if she is not a big fan of clothing. sometimes it is just too cold or too wet to appease her wanting to go without warmth and she has to wear something - and these 2 items are perfect. I love your company and the customer service was above and beyond anything I have experienced with any other company in my 77. Thank you," JOANN ASHTON
Today it rained in the UK so it gave us a chance for Louis to wear his new Sierra coat.It has a flap for his lead to attach to his harness. It fits him perfectly and has some growing room in it too. Louis is 7 month old and has a size 3. ANDREA KNOTT, United Kingdom
"Thank you Teckelklub for creating top quality products for our furbabies and providing absolutely top notch customer service. We have purchased three Canadian Trench and two fuzzie fleece. The quality is amazing and keeps our dog warm and dry. We have had one of our jackets for quite a few years now and it is still keeping the rain off. These jackets and fleece wash well and dry quickly. I highly recommend Teckelklub products as I truly am a fan of the quality and also in supporting a local Canadian company. Thank you for all your help. I will continue to order from your company and will continue to recommend to others. Daisy models her coats and fleece when we're out walking and we get many compliments ". Adeline Stacey (Vancouver BC)
I had done a lot of research on sweaters/fleece jackets and found Teckelklub from a blog I follow. Most of the time, sweaters I've purchased for my mini dachshunds weren't long enough or chafed their poor little front legs on hikes. So far, these have held up great! I was a little iffy about the price but when I considered how much $ I've thrown away on ill-fitting sweaters and hoodies (and once I received the product) I realized they were worth every penny.
I measured both of my kiddos and ordered a size 14 and 16. The 16 for my male was a tad too big on him. He was more of a 15 (if that size existed) so I decided to size up because I didn't want the sweater to be too small. I tried the 14 on him and it fit fine. I could have gotten away with two 14's OR I would recommend custom measurements. I feel like these fit very true to size. I will still use the 16 but when I order more product in the future (now that I'm in love with the fit) I will probably get him a 14 or do custom.
They do not come with a harness hole in them. I will probably sew one in myself, which isn't a big deal. I am not sure if notes could be added to have them add one for you or what that would involve.
I have washed them already and they held up great. I am anticipating that based on the great quality these will last us for a long time - Ashley Hickmon, Utah
Teckelklub logos, images, patterns, and text are copyright protected and are protected by Canadian, United States of America, and International copyright laws. Except where permitted by law, the material on this site may not be reproduced, distributed, transmitted, cached or otherwise used, except with the prior written permission of Teckelklub International Ltd. Teckelklub owns the patent and copyright usage of Teckelklub Trench®; Teckelklub Slicker®; The Fuzzie®; K9|exo®; K9|essential®; K9|essence®; K9|vigor® Patent Pending; Nirvana K9®; Sweet on Petite®; Luxy®; Frilli®; CrateMate®; PetPod®; KlubNews®; and DogKlub®; and patterns related to the registered trademarks are copyright protected by Canadian, United States of America, and International law. Any trademark and copyright infringement will be pursued in the court of law. All Rights Reserved 2016.