The Highland Extra Chest Coverage Dog Coat
Product Description
The Highland is Teckelklub's exclusive new design patented to provide increased chest coverage and maximum water and mud protection for every breed of dog. Styled using the tried and true pattern of our Trench jacket for fit, The Highland features an outer layer of high quality 100% waterproof woven nylon and an inner layer of charcoal grey anti-pill fleece for warmth, breathability and durability in every type of weather.
The Highland is a functional and stylish solution to protect the chest, the body and the neck in snowy and wet months throughout the year. Featuring a full coverage chest band, a waterproof leash opening, and new contour darts to curve around the back length of your dog. The Highland is finished with 3M™ reflective piping all around for great evening walk and night-time visibility. Features Teckelklub's signature easy-on, easy-off fit on all breeds. Cold water wash and hang to dry. Teckelklub is currently out of stock Icy Blue in sizes #2, 3, 4.
Key Features & Benefits
Very high breathability and air permeability
100% waterproof and warmth lined with fleece
Waterproof leash hole opening
Independent Product Review: My Dogs are Cooler Than Me. For a while now I've been looking for a warm winter coat for Elsa with a harness opening in back, it has proven incredibly difficult [seriously, don't people walk their dogs with harnesses]. We finally found it at Teckelklub, a Canadian company that sells functional, no frill, reflective and 100% waterproof dog apparel. We bought the Highland for the added coverage of the chest area, but we also like The Sierra which also has a harness hole. We got Elsa's name embroidered on the back of her jacket.
Available Colors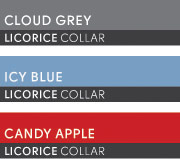 Custom product tab
Praesent at justo congue leo adipiscing porta nec non sapien. Donec et libero nunc quis facilisis odio.
Integer et est tellus non bibendum est. Namcos tempus turpis at metus scelerisque placerat nulla eu sollicitudin felis. Pellentesque diam dolor elementum et lobortis at mollis ut risus. Sed faucibus ullamcorper mattis. Fusce molestie elit a loremos tempus scelerisque blandit tortor cursus. Quisque dolutpat orci ut metus malesuada lorem in interdum lectus scelerisque. Praesent eu odio ut nisi ullamcorper ultricies. Cum sociis natoque penatibus et magnis dis parturient montes, nascetur ridiculus mus.
Find Similar Products by Category