The K9|exo® Brite Dog Chest Harness
Product Description
Comfort, safety & style combine to make our trademarked K9|exo® Brite Chest Harness an industry first! Designed with highly reflective features, formed chest and shoulder panels the K9|exo® is designed to outperform in comfort and durability. The chest panel virtually eliminates the ability for your dog to back out ~ providing safety for both owner and best friend.
Teckelklub's K9|exo® Brite is easy on, easy off technology with no uncomfortable webbing or buckles. Our chest harness easily fits dogs ranging from 8" (20cm) to 22" (55cm) weighing approximately 10 through 40 pounds (4.5 to 18 kg). The Brite version is available in a wide array of colors made from the same high performance, waterproof fabric as our iconic Trench. The chest panel is crafted from a double layer of our popular Fuzzie® fabric in the matching color for soft, durable comfort everyday.
All K9|exo® Chest Harnesses are designed for superior comfort with no pulling on the dog's neck. Simple to fasten and wear alone, or on top of The Trench or any of Teckelklub's apparel products, The K9|exo® is made using 2" wide Velcro® and 3M® reflective tape feature on the back. Proudly made in Canada of cold water washable, hang to dry, quality materials to stand the test of time.
Please note there may be limited stock in a particular color & size.
Avalible Colors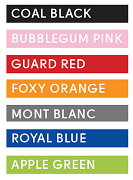 Custom product tab
Praesent at justo congue leo adipiscing porta nec non sapien. Donec et libero nunc quis facilisis odio.
Integer et est tellus non bibendum est. Namcos tempus turpis at metus scelerisque placerat nulla eu sollicitudin felis. Pellentesque diam dolor elementum et lobortis at mollis ut risus. Sed faucibus ullamcorper mattis. Fusce molestie elit a loremos tempus scelerisque blandit tortor cursus. Quisque dolutpat orci ut metus malesuada lorem in interdum lectus scelerisque. Praesent eu odio ut nisi ullamcorper ultricies. Cum sociis natoque penatibus et magnis dis parturient montes, nascetur ridiculus mus.
Find Similar Products by Category