The Moderno Bone Dog Blanket
Product Description
FUNCTION + FORM MAKE A DOG'S LIFE MORE ENJOYABLE
Teckelklub offers original designs that can make life more enjoyable for dogs and their owners. Combining form, function, and style in equal parts mean our designs make everyday tasks easier. The Moderno Bone Blanket is the perfect comfort companion for your dog. Just like your favorite blanket, dogs will enjoy having the comfort of their own blanket for home, in the car, or for travel. Teckelklub's original design is made of the same great fleece as our Fuzzie products. Made to last, The Moderno Bone Blanket will look great through years of use.
Dogs will feel at home anywhere with this stylish, thick [2 Charcoal Grey layers + 1 bone layer] and super-soft fleece blanket finished with a striking, high quality old-fashioned black blanket stitch. The Moderno is 36 inches round [90cm] in diameter and is available with an exaggerated colored bone on a grey background.
Machine washable in cold water for easy cleaning. Perfect for cozy car rides after long walks, at the office or at home! Take advantage of our exclusive Embroidery Service to personalize this product today! Names, nicknames, or special times make this a great gift item too.
Available Colors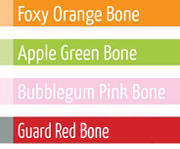 Custom product tab
Praesent at justo congue leo adipiscing porta nec non sapien. Donec et libero nunc quis facilisis odio.
Integer et est tellus non bibendum est. Namcos tempus turpis at metus scelerisque placerat nulla eu sollicitudin felis. Pellentesque diam dolor elementum et lobortis at mollis ut risus. Sed faucibus ullamcorper mattis. Fusce molestie elit a loremos tempus scelerisque blandit tortor cursus. Quisque dolutpat orci ut metus malesuada lorem in interdum lectus scelerisque. Praesent eu odio ut nisi ullamcorper ultricies. Cum sociis natoque penatibus et magnis dis parturient montes, nascetur ridiculus mus.
Find Similar Products by Category